Click here to pre-register and reserve your spot at our seminar

<![if !vml]><![endif]><![if !vml]><![endif]>U. S. Eastern Wado-Ryu Karate-Do

Federation Presents

Grand Master H. Otsuka III

Winter Seminar November 2018

Wado-Ryu Grand Master Otsuka III.
<![endif]> <![endif]--><![if !vml]>
<![endif]>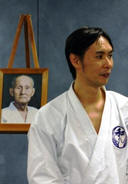 Grand Master Otsuka is the world's most knowledgeable instructor of traditional Wado Ryu Karate. He is Third Generation Renmei Wado-Ryu Master Instructor and responsible for all Renmei Wado-Ryu Karate Do.
We will be holding three separate seminars at locations listed below. Cost per class per location: $30 for Youth and Adult Under Belts, $40 for Black Belts. You can participate each location if you like.
Registration and payment can be made online at www.useasternwado.com, or register at door, day of event, Credit Cards Welcome on line or at door.
Steve O'Riley's Wado-Karate Centers - Nov 16, 2018
2444 Morris Gentry Blvd, Antioch 37013 Location
Youth - 6-14 Years - 6-7 pm
Adult Under Belts - 15 Years and up - 7-8 pm
Black Belt - 15 years and up
First Hour combined with Adult Kyu - 7-9 pm
Zimmermann's Karate - Nov 17, 2018
30 Swan Ave, Hohenwald 38462 Location
Youth - 6-14 Years - 9-10 am
Adult Under Belts - 15 years and up - 10-11 am
Black Belt- 15 years and up
First Hour combined with Adult Kyu - 10 am -12 pm
Bill Taylor's Bushido School of Karate - Nov 18, 2018
1820 N. W. Broad Street, Murfreesboro 37129 Location
Youth - 6-14 Years - 1-2 pm
Adult Under Belts - 15 years and up - 2-3 pm
Black Belts - 15 Years and up - 3-5 pm
RESERVE YOUR PLACE TODAY
Don't miss this once-in-a-lifetime experience -- train with a true Master – Grand Master Otsuka III
Click here to reserve your spot at our seminar